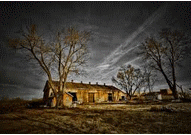 The appeal of investing in small-cap stocks in the current market environment has more to do with the fact that they have been forgotten by a majority of professional and retail investors than anything else. They are in that middle, attic area that investors don't care much about and rarely dare to stick to their heads in to see what is going on.
Institutional investors are too big to invest a $3 stock that trades 40,000 shares per day. Individual investors come by every so often to take a peek but don't really know what it is they are looking for.
This repulsion from both sides leads to the occasional no-brainer type of investment that AUTH turned out to be. It took AAPL to come along and remind investors that this was a much more valuable company than the market was giving it credit for given the current technology landscape. I still think they sold cheap. I made my 100%+ return, I can't complain.
This repulsion from both sides leads to companies like SYNC stagnating after their IPO, despite an improving earnings landscape due to being in the sweet spot of technology. Another 100% gainer if you read the price correctly.
There were a few other 20% plus gainers this year, as well. Software and telecom names that have taken steps to improve their business and don't receive the proper attention.
SPNS is the latest name that is a reminder of how much of an ill-forgotten wasteland the small-cap space can be given the current lack of imagination on Wall Street.
Tell me another place you are going to find a conservative CEO that has openly stated a $200 million goal for revenues one year from now? That's double where we are now. Stock does nothing. Tell me another place you are going to find a company that has successfully integrated key acquisitions into their business model, allowing the company to experience greater than 70% gains in top and bottom line numbers year over year? Stock does nothing. Tell me another place you are going to find a company that is in the sweet spot of a niche upgrade cycle within an industry that has no other choice but to spend? Stock does nothing. Tell me another place you are going to find a company whose parent company is buying up shares in the open market because they know the market is undervaluing the asset? Stock does nothing.
Here are some highlights from the earnings report released Monday:
- Revenue increased 91% to $27.2 million, compared to revenue of $14.3 million in the second quarter of 2011
- Non-GAAP net income increased 77% to $3.5 million compared to $2.0 million for second quarter of 2011
- Sapiens ended the quarter with $31.2 million in cash, compared to $21.5 million at December 31, 2011
- Roni Al Dor, CEO of Sapiens International, commented, "This was a quarter of strong execution, as we continue to grow our revenues and improve the profitability of the consolidated organization, while capitalizing on increasing demand to our product portfolio. Halfway through our first full year following the merger, we are delivering revenues on our promise and reaching Non-GAAP operating margins of 13.7% which reflect steady improvement from previous quarters. We continue to see high demand for our products in North America and European markets with a strong pipeline to gain new customers in the short term. We continue to invest in technology and functionality to further enrich our product portfolio and recruit new employees to our R&D centers and target markets.
It's not going to last. The stock will eventually do something. It will be a double digit stock in the future. These realizations seem to hit Wall Street very suddenly in this day and age. The rush towards small-cap value creation is like a storm of shit hitting a toilet bowl. Sloppy, difficult to assess and something that most investors would rather miss.
That leaves guys like me and people like you who like to read analysis by guys like me as the ones who are willing to be patient enough to profit from this blatant inefficiency. It is fine by me. Frustrating at times…but nevertheless, perfectly fine.
I'll be waiting here with shit suit in hand.