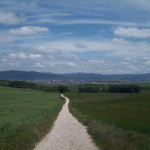 It continues to be up. The bears had yet another chance to take the market down through some important technical levels today. 1240 was on the verge of breaking, putting the ball in the court of the bears for the short-term. With two hours left in the day, the bulls staged a convincing reversal and not only closed the market above 1250. But rather managed to close the S&P 500 above 1260. Showing again which team controls the ball at this stage of the game.
With that said, the question becomes what will come of the remainder of this week? There is a strong possibility of the move to 1320 taking place by Friday in the S&P 500. I say that because we have now had six days of consolidation. In the meanwhile, all the important leading indices have consolidated in a perfect manner before resuming their respective uptrend. The financials, semis, Nasdaq 100, commodities. All of these averages faced a view from the edge of the cliff and promptly turned around to run the other way. It bodes well for the bull market. The bears have run out of chances.
The nature of this bull run has been short, steep explosions higher followed by several days of consolidation. This falls in line perfectly with models comparing this run to previous Q4 explosions that have marked a bottom brought about by excessive bearishness resulting from seemingly insurmountable negative fundamental headwinds.
Bottomline: The consolidation has run its course. I expect this week to see the bulk of the gains for November, with an upside target of 1320 by Friday.